thank you all for linking up to my center of attention sunday party. it's so great to be surrounded by such talented women; i'm in awe of your talents.
i cannot pick my favorites, because they're all wonderful. so this week everyone get's a feature. (hello mcvick, switzerland, line one).
in order of in linkz views:
we have
somewhat quirky's!
fabulous sunshine suitcase tutorial. i love the way the poppies just, well, pop! this makes me smile when i look at it!
and beth at
make me pretty's!
turquoise beauty. i especially like the detail in the corners, such a pretty piece! check out her blog for great furniture re-do's.
carolyn shared her buffet re-do, a gorgeous piece! she's got some great signage going on over at my
my simple messterpiece
too!
here's vanessa at
home sweet butterly!
, and her picture perfect, a super vintage looking frame with one of my favorite things, utensils!
crafty meggy
shamed us 'last minute lizzies' with her christ tree quilt piece. i am in awe of people who are prepared for the holiday season before the tanning oil and beach chairs come out! :D
last, but certainly not least, liz over at
sixth street sunshine
showed us her easy easter mantle. i'm totally digging the forsythia, such a quintessential spring item! check out her blog to see her kitchen and super cute decorating!
are you ready to be the center of attention next sunday? post your stuff, show it off, and be sure to visit the other blogs; that's what it's all about, right?
and if you wanna grab my button (anywhere else but blogland, that'd sound dirty) feel free!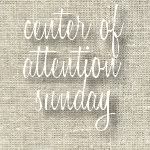 <-------the code is over there on the left