if i keep partying on saturday nights, i'm going to have to change the cad sunday to another day, because vodka hangovers are not conducive to writing. by the way, three olives grape vodka and seltzer goes down
very
smoothly.
the party doubled this week and though i'm sure you're not all getting a lot of traffic from my little ole site,i personally love seeing your talents, so thanks for sharing.
jazmine at keep it krafty turned a $20 garage sale score into a fabulous center of attention stealing coffee table! this is one resourceful young lady!
see her how to here
.
now my sister from another mister,meg over at
nutmeg place
had the second highest clicks and i'm not sure, but i think they might be all from me, cause i so love this sign. i'm coveting it. i think she could easily repaint it to say 'center of attention deficit disorder' don't you?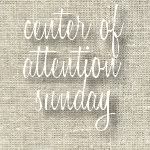 <-------the code is up over there on the left