is it sunday already? this week has flown by so fast! i suspect the rest of the school year will too. i was just informed that there are 24 school days left for my youngest who graduates in may. where does the time go? well here we are, easter sunday; enjoy these features while you're sneaking marshmallow peeps and jelly beans.
center of attention this week is this
amazing chest of drawers, refinished by it's just me
in a word?
unfreakinbelievable
! i've seen many furniture re-dos, but this one just takes the cake. i love everything about this dresser, from the soft glazed color to the lines to the hardware to the fabulous distressing.
karen at
somewhat quirky
always makes me smile. while i'm not a religious person (12 years of
incarceration
catholic school) this quote really appeals to the spiritual side of me. i'm going to find something to do with this quote, by golly!
i'd like to thank all of you who linked up to my little party, i love seeing everyone's talents. you are all such great inspiration and even though it's a small gathering, i'm going to keep doing it; i hope you'll stay with me. so without further ado, let's get on to this week's center of attention sunday, shall we?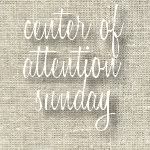 <-------the code is up over there on the left